If you work in a large organisation, getting your message across clearly to your entire internal target audience can be tricky. How can you possibly get your message to the right people at the right time and through the right channel?
There are so many different functions, locations and other variables to consider. People are always struggling to find time for your message. And to make things even more complex, what if you need to create an entire campaign to introduce a big organisational change? There's no doubt that this task is a challenging one. That's why we'd love to share with you our 5 steps to create a successful internal communication campaign!
What is an internal communication campaign, and why does it matter?
An internal communication campaign is a collection of strategies and tactics that are used to facilitate information transfer between employees, with the intention of creating behavioural change. To create behaviour change within a large group of employees, good internal campaigns are an essential tool in the tool belt of company leaders. And with that, internal communicators are like the co-pilot to help management strategically guide the company to their destination. However, only 40% of organisations actually take a strategic approach to their internal campaigns (Gallagher). So now you might be wondering, what does a good campaign look like?
A good internal communication campaign is when you successfully equip the target audience with the knowledge and motivation they need to be successful.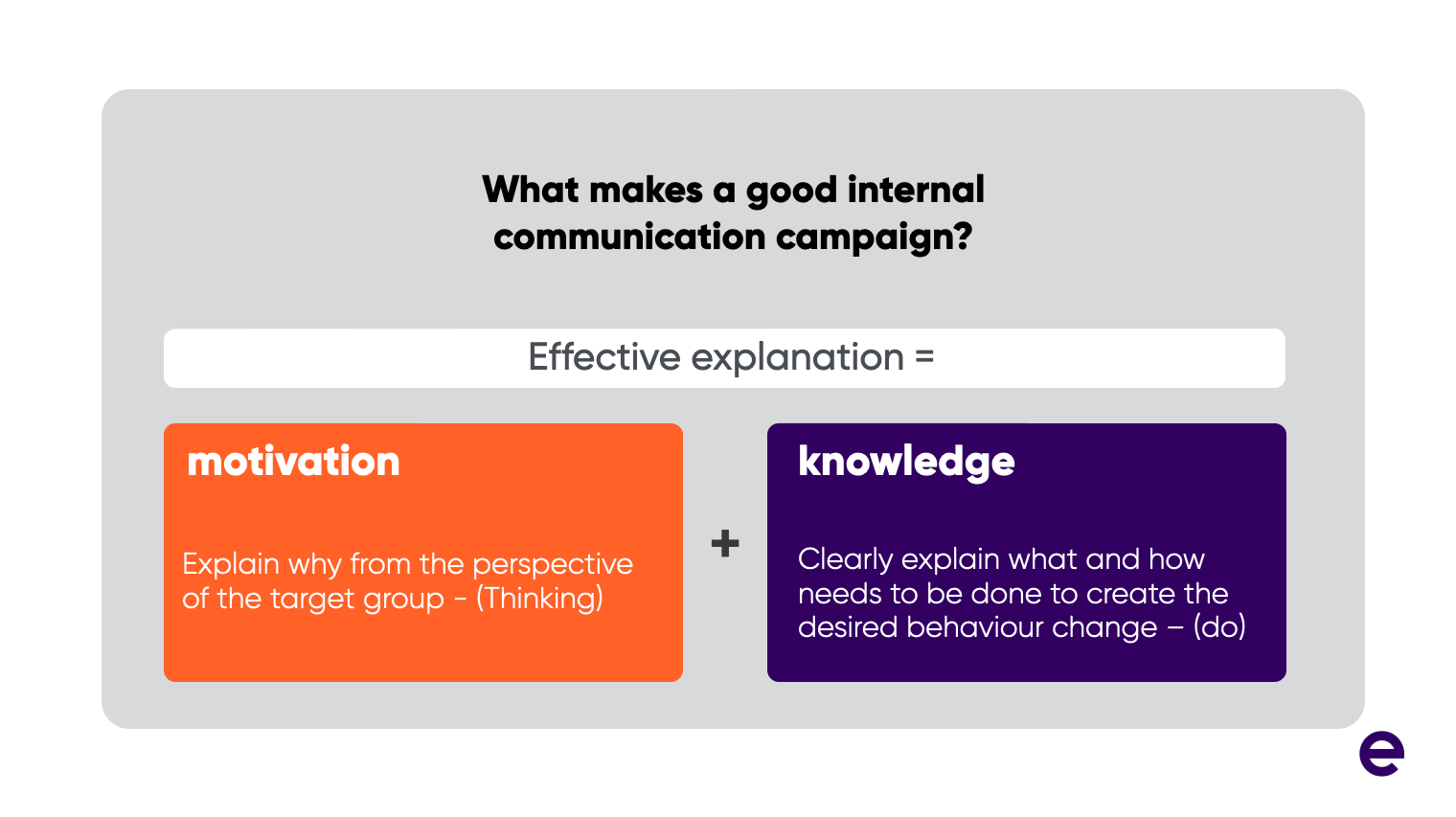 How do you create that motivation and knowledge? Let's break it down with the 5 steps to create your own internal communication campaign.
The 5 Steps to Create a Successful Internal Communication Campaign
1. Focus on the problem, not the solution
Now, this might seem a little counterintuitive at first. But, the better you are able to break down your internal communication problem and diagnose the key pain points, the better you can address them with an appropriate solution. So think of it this way - you're not sure if your communication has been effective so far because you haven't seen any results. But do you actually know why that is the case? It could be that maybe your channels aren't appropriate and people don't see your message. Or simply that you're not creating a relevant message that people understand.
So, before jumping into your next campaign, think about the following:
How important is this campaign to the organisation's success? Will it have a significant impact if the audience is not aware of your campaign?
How complex is the topic? Is it straightforward and simple to understand for the audience? Or is it completely new and unfamiliar to them?
Is the situation the same for everyone? Perhaps one segment within the audience feels very negative about the change, or some people are completely unaware the change is happening at all.
Once you start asking these questions, you will have a better understanding of where the gaps are in your communication strategy and what problems you can address.
2. Determine success in advance
One of the most common mistakes in internal communication is not defining a clear goal before starting a campaign. An astonishing report from Poppulo shows that in a typical week, internal communicators spend less than 2% of their time measuring success. But think about it, if you don't know specifically what you're aiming for, how will you know if your campaign worked?
A good place to start here is to picture a best case scenario. What kind of behaviours would you like your audience to exhibit after they have seen your message? Take for example a compliance initiative such as GDPR. You're trying to communicate to your employees that they need to be more careful in the way they handle user data. So that means no data stored on desktops or loose folders. Perhaps you could picture success for this campaign as "[Target audience] deletes all files from their desktop".
Once you have this destination clearly defined, you can work your way backwards and think about what your employees will need to get to that destination.
3. Put yourself in the shoes of the target audience
According to Gallagher, only 17% of organisations are using personas or employee profiles for internal communication. These tools are the best way to actually create content that your target audience will pay attention to. Now, we all know that employees are busy, that's what they were hired for. So when they receive information that doesn't seem important to them, they are simply not going to divert their attention from their main priorities. Fair enough, right?

So as an internal communicator, you need to know which figurative buttons to press. You must create relevance by understanding what your audience truly needs. Take a look at our example persona below: You can see the need for information is mostly focused on knowing 'why' this change is so important to them. An insight such as this might save you from creating content that is too focused on explaining how something works, when actually your audience doesn't even know why it's important in the first place.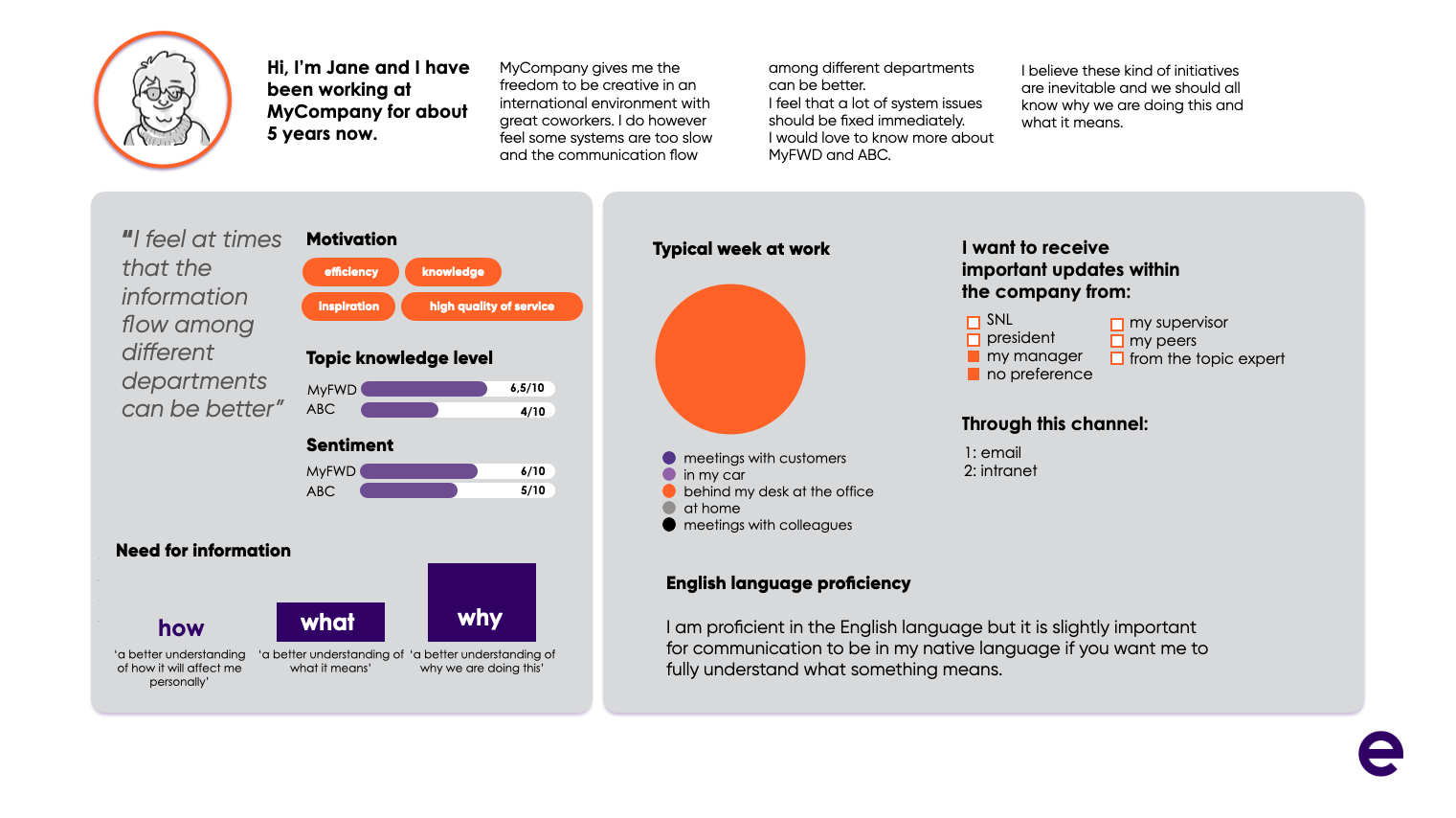 4. Create an employee journey
Now you've got your audience personas sorted out and you know what information they need. Time to start putting the pieces together. According to each persona's information needs and preferred channel, start thinking about how you can send them the right information at the right moment and through the right channel.
The best way to do this is with a topic map, which you can create with the following steps:
1. Take all of the topics that you will need to communicate to your audience and put them on a page.
2. Give the topics a chronological order so you know when you will need to send each message.
3. For each persona make a copy of the page and cross out all the information that isn't relevant to them. This creates more relevance and avoids sending your target audience content that they will simply ignore.
4. Check which channels your audience prefers. For each topic on your page, add in a note of which channel the message needs to be sent on. The final result might look something like this: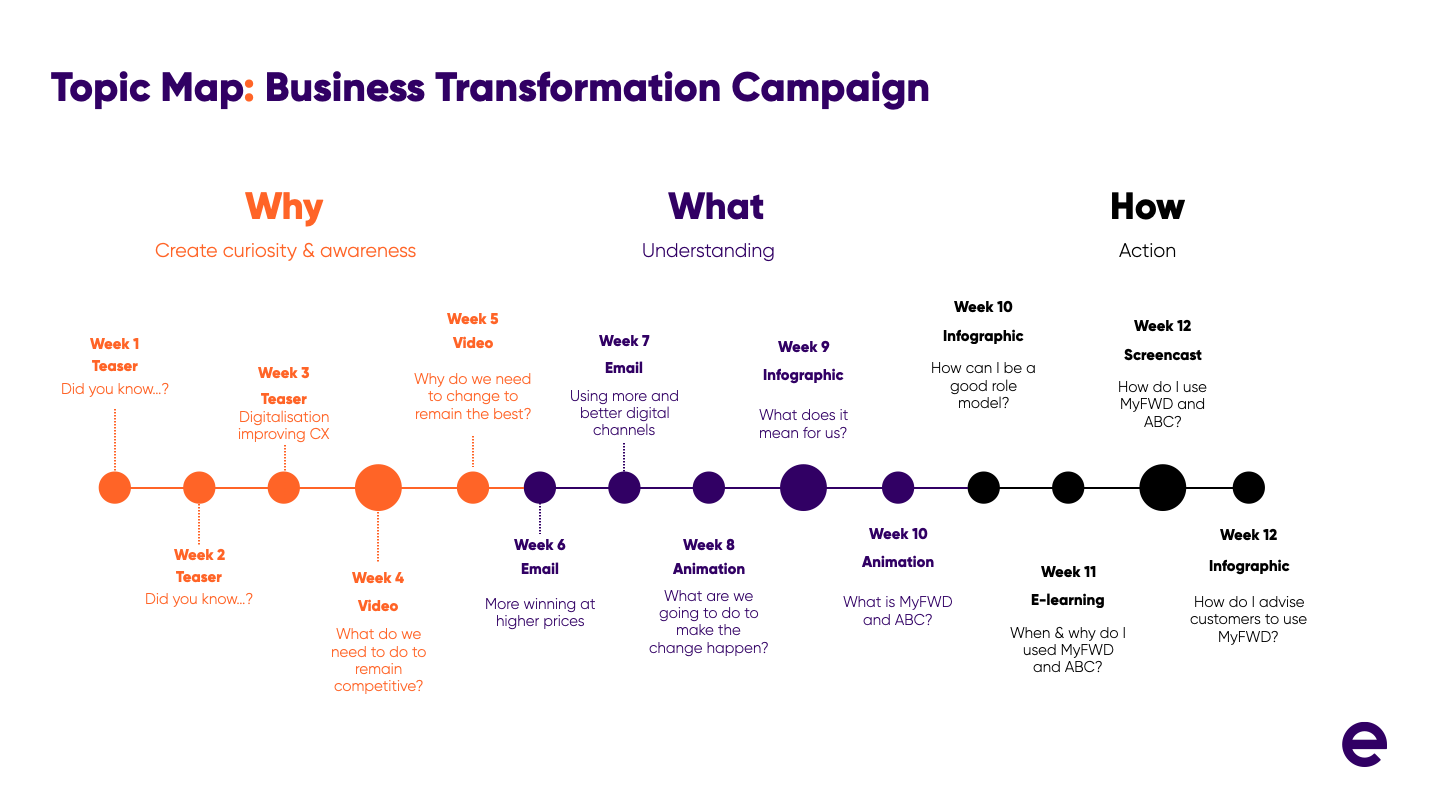 5. Raise the bar every day
So, you've defined success, empathised with your audience and put together your employee journey. All that's left to do is to launch your campaign. We've already written all about the importance of measuring in our 'How to Measure the Success of Your Internal Communication Campaign' blog post. So once you have all that data, keep learning from it and making your internal communication campaigns better. Improve your personas, optimise your employee journeys and get as much feedback as you can on your content. After all, internal communication has been shown to reduce stress among employees. So you should always be looking to improve!
Need some help to set up your internal communication campaign? Get in touch! Our consultants are happy to help you out to find the perfect way to reach your audience and make your message stick!
Thousands of happy Funk-e clients...