4 awesome infographic applications.
Ways of explaining that you'd never even thought of.
Engage your audience in ways you never thought were possible.
With an infographic, you can clearly explain complex information with a combination of text and illustrations. Your product, process or data will become clear in no time at all! Infographics are incredibly useful in that they can be distributed in many different ways; you can show them on your website, in an email, or print them and hand it out our leave it after a sales conversation. But the possibilities don't end there, to give you some ideas of how infographics can be applies, we have made a number of examples below!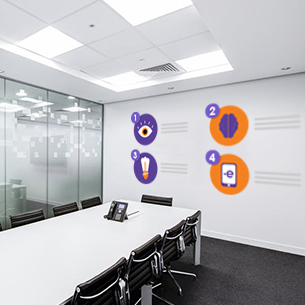 1. Cool office walls

So, you have new people visiting your office every day. You do your best to explain your product, process or data as clearly as possible. But wouldn't it be nice to have some help? How about...a giant infographic on your wall?! Your message clearly explained while your client enjoys their cup of coffee, not bad!
2. Visual floors
People are very busy these days, constantly on the move. Why not send your message while people are moving with an infographic on the floor? Encourage visitors and colleagues to view your message every time they walk through the office. This will make sure that not only are visitors dazzled by your colourful, informative floors, but also they immediately know what you're trying to achieve!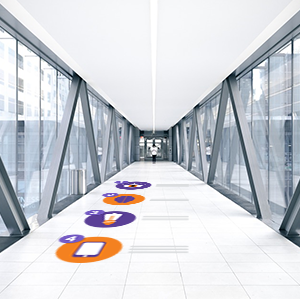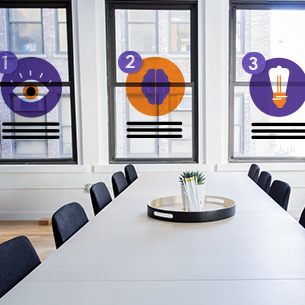 3. Informative windows
People like to stare outside through windows. What if there was an opportunity to get your message across while they did so? You could send a message about your product, process or data at any moment when someone looks out the window. With an infographic, anything is possible, so why not put it on a window? Grab the attention of your audience quickly, and give your room a colourful makeover!
4. Repetition with office items
Suppose you're working on a major internal campaign within your organisation. For example, to ensure that large internal change transitions smoothly. You have already communicated your message in several ways, but you want to keep repeating it to ensure it remains in the minds of your target audience. Repeat your message and become more salient in the minds of your audience with infographics on mugs, notebooks, folders and any other office items you might have!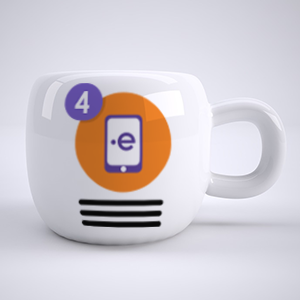 Looking for creative new ways to communicate?
Struggling to find ways to reach your audience in an engaging way? We're always happy to help! Just give us a call on +31 (0) 10 413 27 34 or fill in the contact form below.